Magnetic Soul
Biography
Dj/ Producer, vinyl junky and promoter with a lifelong dedication and insatiable appetite for new music and exploring the furthest reaches for the very best in underground dance and soul music. Influences drawn from far and wide but generally boils down to smooth deep soulful melodic grooves, funk, dubby disco, raw underground house and electronic sounds.

  Having moved from Belfast in mid 90s to Manchester he soon absorbed himself in the club scene and deep rooted knowledge and eclectic sounds of djs, radios stations, bars and clubs around him. Started out promoting events at new Sankeys Soap and other local clubs before moving  on to Birmingham and ended up working in a bigass record shed. There he started the small but beautifully formed Floatation night mixing 2 room of deep house and  disco/balearic room which became legendary around Birmingham for shunning the regular venues, licensing laws and boring music policies with parties running for up to  20hrs in a small backroom of a gay pub with fish pond and massive soundsystem! Started with like minded friends for friends to come party and dj with us.

  That love of music and excitement for discovering something new has never faded with his knowledge and record collection getting even more unmanageable  than ever! Now focusing more on the production side of things but always ready and eager to spin a few tunes...
Releases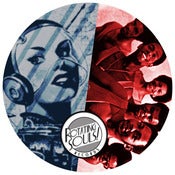 ABOUT US
Rotating Souls Records: The Pittsburgh record label with those Afro-RetroFuturistic jams, Hi-Tech Funk, Cosmic Boogie Noir sounds, and Gene-Spliced Disco artifacts from another dimension that we love.
Learn More..
ON THE WEB
Facebook
Twitter
Discogs
Tumblr
Soundcloud

CONTACT US